SEEDS 036. Photomarathon under the midnight sun
01.06.2019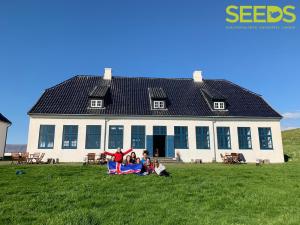 The formula for a happy stay in Iceland while participating in a photomarathon with SEEDS: spend the arrival evening having a picnic in the Botanical Garden of Reykjavik. Next day, set out on an adventure to Viðey Island to see Reykjavík from a different angle and have a look at the Imagine Peace Tower, a monument to John Lennon, which serves as a reminder for every nation to aspire to be as peaceful as Icelanders are.
If you want to take a break from continuous taking pictures – go to concerts of local musicians or other events, like a swap market, where you can renew your wardrobe in an environmentally friendly way. In case one of the volunteers celebrates their birthday during the camp – sign a birthday card at Iceland's largest and the world's third largest geothermal power plant Hellisheiði and ask random tourists to unexpectedly congratulate the celebrant (Warmest wishes for your birthday once again, Uriel!).
To maximize the Icelandicness of your experience, invite Icelanders to cook an Icelandic dish for the international dinner, teach you an Icelandic traditional dance, and finally, help to choose a title in Icelandic for your photography exhibition. Special thanks to our botanical garden volunteers for being part of this experience!
Anna Morozova
,
Photomarathon coordinator and camp leader
SEEDS 036. Photomarathon under the midnight sun, held between 23.05 and 01.06
Find your workcamp
Icelandic Experience
SEEDS main supporters