SEEDS 038. The Highlands North of Vatnajökull glacier
14.06.2019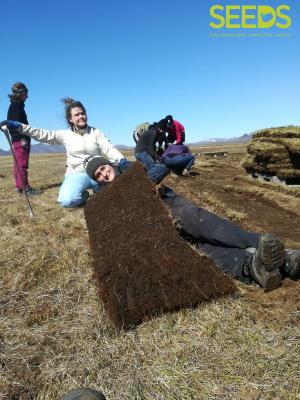 My first camp it's just finished!
We left Reykjavik the 2 nd of June at 7 in the morning and after 8 hours we finally reached the camp location. The host is set in the Highlands of Iceland (literally in the middle of nowhere), and it is the highest farm of the country. Here the weather can be cold and unpredictable: it snowed in June! The family host was nice and welcoming, who gave us a little tour of the settlement.
During the first days we picked up trash around the farm and fertilized the grass roofs made of turf with sheep shit (manure)! I've never imagined doing such thing, but in the end it was fun. We dug dried sheep shit and put it on pallets to let it dry more, in 5 years it'll be ready to prepare an Icelandic traditional food : smoked lamb (not good for a vegetarian).
On Thursday we had a day off, we couldn't work because of the snow. We visited an original turfed house and met locals that showed us how in the early days people used to live in Iceland. It was very interesting, and we had delicious pancakes with rhubarb jam!
On the weekend we made turf, it was a really hard work (ask my back) but it was nice be involved in one of the most famous Icelandic traditions.
On Monday we had the day trip, we visited Dettifoss (the most powerful waterfall in Europe), Asbyrgi (a beautiful canyon) and Husavik where we saw a lot of whales and puffins! I was speechless (also because of seasickness) when I saw a big whale that near to the boat.
During the last days we painted wood houses and we repaired the turfed houses by taking off the old layers of turf and putting the new ones on the roof. But the thing I've enjoyed most was fixing and maintaining walking paths by painting the new sticks and removing the old ones. We were surrounded by mountains and deserts, it was breathtaking (also because we had to cross rivers bare feet, the water was so cold).
We left on 14 th of June, the way back to Reykjavik was longer because we went south but we visited some interesting spots: the Glacier Lagoon, the Black Beach and Skogafoss one of the most famous waterfall in the south shore.
Last but not least we saw little puppies of Arctic fox, they were so cute and adorable!
Sara Zanini, Leader
SEEDS 038. The Highlands North of Vatnajökull glacier, held between 02.06 and 14.06
Find your workcamp
Icelandic Experience
SEEDS main supporters