Botanical garden/Summer season opening!
05.05.2019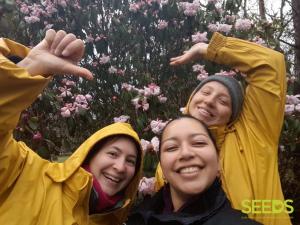 We have just finished our first Botanical Gardens camp of 2019! And this means that... Summer is just around the corner!!
This is the first of 9 camps that will be carried out until September, in the Grasagardur botanical garden of the city of Reykjavik.
Botanical garden was my first outdoor camp and I am super happy about it; that I had this chance of seeing locals, Reykjavik, the Botanical garden (which has always been so close), form a totally different perspective now. We were working, not minding the weather because, as Svavar (one of the workers of Botanical garden) said, "If we wouldn't work in the botanical garden when it is raining, there wouldn't be a botanical garden".
There were only two short-term volunteers from Mexico and Russia. However, it felt like we were still quite a big group, because the workers from the botanical garden were joining us in the daily tasks that we had to accomplish.
The volunteers really inspired me (if you are reading this, and you were planning on joining this camp, you missed out on one really inspiring camp). Liliia, from Russia, was fearless, just going, doing, having endless energy even after a full day of work in the garden. Leiisy not lazy, really was not lazy, and did not stop cracking different jokes and as well she didn't stop amazing me with all the amount of knowledge she had about different plants, and nature itself. I have to stress that weed picking wouldn't be so fun without our fellow botanical garden workers Manuel and Jarkko, that's for sure!
It was really my pleasure to have this experience, to learn more about Iceland while working, interacting and sharing. And if at the end of the day you get some rhubarb to make a pie, from the garden where you were working in!? .. and it was one tasty pie!
TAKK!
Lelde Gusta, Environmental Messenger and camp leader
Find your workcamp
Icelandic Experience
SEEDS main supporters