Whale protest
25.03.2019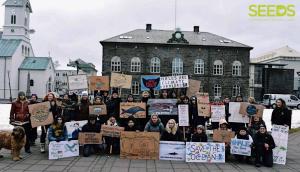 On Sunday, we participated in the anti-whaling protest with other local associations in front of the Parliament.
Our volunteers were really motivated to take part in this strike and they used their drawing talents to create some signs and banners!
This strike was in response to the decision of the Minister of Fisheries, Kristján Þór Júlíusson, to approve the hunting of fin whales and minke whales until 2023.
Find your workcamp
Icelandic Experience
SEEDS main supporters