SEEDS 056. Revegetation in the South (1:2)
26.06.2018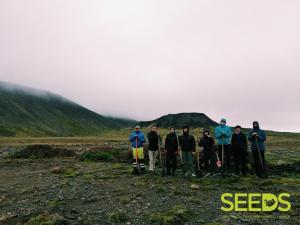 The revegetation camp lasted from the 8th til the 22nd of June 2018. Volunteers were staying in the town of Hafnarfjörður, a place famous from its summer viking festival.
For two weeks camp participants were taking care of revegetation in the southern areas of Iceland, such as Krísuvík and Bláfjöll. Volunteers were preparing the area for the plantation of the trees, by spreading natural manure, controling the erosion and fertilizing the soil. In the end, we have planted 75 trees, specific for the natural flora of Iceland, such as birches, willows and rowans.
Our host took a great care of our education, by giving us daily lectures about the Icelandic flora, the area of where the work took place and also the importance of the soil fertilisation. One of the lectures took place in the biggest forestry school of Iceland - The Icelandic Forestry Association (Skógræktarfélag Íslands).
After work we were getting some well deserved rest in the local swimming pool, and encountering the old Icelandic times by joining the Viking Festival. In our free time, we were travelling around the Iceland with SEEDS, visiting attractions of Golden Circle, Reykjanes and Snæfellsnes Peninsula.
Both host and the volunteers became very good friends and the last day of the camp was a heartbreaking moment for them all.
Those two weeks spent in Reykjanes Peninsula, provided Iceland with richer revegetation, and us with unforgettable memories, new experiences and friends for a lifetime.

Maja PIECHOCIŃSKA
Find your workcamp
Icelandic Experience
SEEDS main supporters