SEEDS 038. Botanical Gardens in Reykjavik
03.06.2018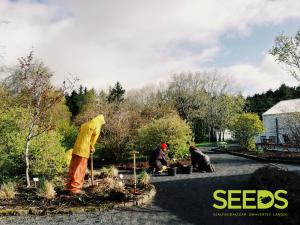 The Botanical Garden Camp lasted from 21st of May til the 2nd of June. The work volunteers were given was taking care of flowerbeds, getting rid of weeds and invasive species, such as Chionodoxa.

The work was demanding but very rewarding. The workers of the Botanical Garden welcomed us warmly and made us feel at home. We became good friends and the end of the camp was a heartbreaking moment for all of us.

After work we were exploring the city and going to the excursions. The participants got an opportunity to visit Reykjanes Peninsula, see the wonders of the Golden Cricle, bathe in the hot river in Hveragerði and also, they were lucky enough to see whales, dolphins and other wild marine animals.
The evenings were the times of tightening the bonds. We were playing activity games, watching movies and chatting til the late night hours.
On our last day we prepared the barbecue with the workers of the garden and took a walk through the ZOO.
The participants became good friends and everybody seemed to be having a wonderful time.
Find your workcamp
Icelandic Experience
SEEDS main supporters