SEEDS 021. Photo Marathon in Reykjavik
21.04.2018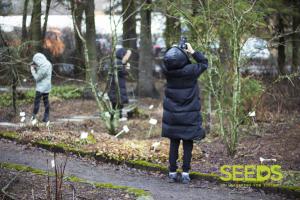 Our cozy house is situated in the middle of a green area, just outside the centre of Reykjavik. This camp consists of photo marathon and environmental participants together in one house.
Only one week ago we woke up to a house covered in snow but today we are taking pictures of new plants in the botanical garden. Although the sun is not showing the temperature is pleasant. With the days growing longer and the light changing constantly this place turns more photo genetic day by day. Our photos don't appear to be taken in spring but they are beautiful anyway
We are a small group with 5 participants and two leaders; together we have 5 nationalities from all over the world. (South Korea, Russia, Germany, The Netherlands and Hungary.) During this camp we went on several excursions. The first one is the famous Golden Circle with the favorite Gullfoss waterfall. We also visited Sorpa, a place forSolid Waste Management in Iceland's Capital Area, where we got a tour through the process of what happens to our trash here.
With several upcoming excursions we look forward at a busy second half of this combined camp. Even though the spring days last longer the time flies by so fast.
Find your workcamp
Icelandic Experience
SEEDS main supporters