SEEDS 068 Growing Gardens in Reykjavik
14.07.2017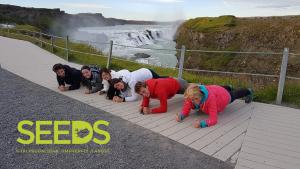 During this camp, we were working in a garden that grows plants and trees for the city of Reykjavik. Participants from Germany, Taiwan, Italy and France cooked an amazing international dinner with food from all our countries.
We had time to do something after work every day, such as visiting Reykjavik playing the city game, going to the swimming pool, going to excursions: Golden Circle, Reykjanes Peninsula, Snaefellsness Peninsula, South Shore.
To stay fit, we tried to do planking every day, everywhere!
S.T.
Find your workcamp
Icelandic Experience
SEEDS main supporters