SEEDS 051 Revegetation in the South of Iceland
23.06.2017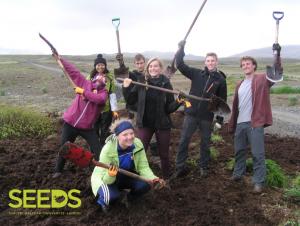 During this camp, our main tasks were to plant and measure trees, and… spread horse manure! This work was sometimes physical but with this nice group, it was a lot of fun!
With this group of 7 volunteers from Poland, China and France, we worked with Bjorn, leader of the association Gróður fyrir fólk dedicated to revegetation in Reykjavik's region. We worked in different beautiful places in Reykjanes Peninsula.
For 2 weeks, we lived in a school in Harfnarfjordur. We could relax in the swimming pool every day after work and we had the chance to go to the Viking festival. During our free days, we went to Reykjavik for the National Day, and we had excursions to visit Snaefelsness Peninsula, South Shore and Golden Circle.
S. T.
Find your workcamp
Icelandic Experience
SEEDS main supporters