SEEDS 045 Strandir in the Westfjords of Iceland
15.06.2017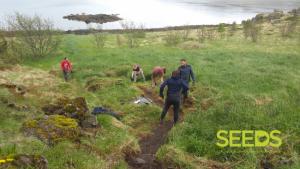 The 2 weeks we spent in Hólmavík, Westfjords were very enjoyable for all. We worked with the municipality to repair hiking trails and staircases around the small town of Hólmavík.
We worked hard through the days and then spent many evenings in the local pool relaxing with the locals. It was very rewarding to see the difference we made to the paths thus encouraging tourists to keep to trails in order to protect the surrounding landscape.
We also enjoyed a wonderful International dinner with people from 7 different countries; France, Germany, Iceland, Italy, Russian, Scotland and Spain cooking and sharing food and drinks from around the world. We were also lucky enough to spend our free days hiking in the local area and taking a trip up north to the small time of Djúpavik. Our host also took us to visit a small island; Æðey where we met a family who spend their summer collecting down from Eider ducks – they taught us how they work and let us work with them.
Find your workcamp
Icelandic Experience
SEEDS main supporters