SEEDS 095. Forestry in the land of fire and ice (3:4)
25.08.2014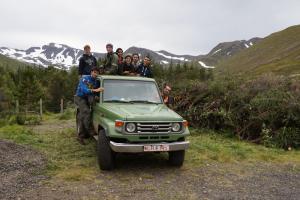 If I should say just one word for this workcamp, I would say: "Time". The perception of time, or its absence, was constant for me during these days. Strange feelings start to arise when you plant a tree: you know that, if it will survive, it will live much longer than you. Kids and families will play, many people will walk on the path that you started to build. And if you look around, you know that the big trees that surround you were planted by people who lived one, two or three generations before. And one thousand years ago there were many forests in Iceland and the glaciers were much smaller than today…
It takes a while to the brain to realize that what you're doing will last long and will show its effects in the years; that you will not see the very result now and that you don't need to, because not everything has to be now, not everything needs a proof, a picture, or needs to be a "OMG-thing". When you realize it, well, you start to really enjoy.
This was for me doing forestry in Iceland. A workcamp with great people where unexpected things could happen from time to time: picking the drunken kids area at the camp-site, getting lost in the night with the car in some casual rides.. I have many memories of this workcamp: the silence of the fjord with a stunning moon, some freaking cold, drunk Icelanders, Italians falling in ditches, a French song, shrimps spread, a creepy doll, huge piles of branches..
Yes, this workcamp was special and I'm thankful to our great host Gabriel and to the volunteers to whom I wish all the best in the future: Alberto and Luigi from Italy, Célia from France and Isabelle and Xante from the U.S.
Alberto GIACHINO, SEEDS Workcamp Leader
Find your workcamp
Icelandic Experience
SEEDS main supporters