SEEDS 091. Eyrarbakki - Stepping back in time
22.08.2014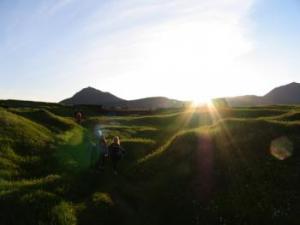 This camp is placed in a strategic and historical trade spot in the south of Iceland. It has welcomed us again, after our first workcamp in June. This time the main goal has been to cooperate with the hosts in tasks related to the festival 'stepping in time'. Our international team, composed of 10 volunteers have been carrying out different tasks within the limits of the town such as gardening, cleaning public areas, small painting jobs, setting grass, drying sea-weed, and preparing and helping out for the festival which gathered hundreds of people among tourists, locals and people from the next towns.
The warm atmosphere among the locals has also been very welcoming for the participants who have had the chance to meet habits and way of living from Icelanders, who are not very used being visited by foreign people, apart from the quick touristic visits.
We had the chance to visit the wonders of Golden Circle, go kayaking in the cold waters of the North Atlantic ocean, and dip in some of the hot pools in the surroundings. And all this great time has been possible thanks to our fantastic local host, always ready to listen and help us during this 2 weeks that we hope, have been unforgettable for our international group.
Diego Gomez, Work Camp leader
Find your workcamp
Icelandic Experience
SEEDS main supporters