SEEDS 071. Collecting herbs in the South - Vík
01.08.2014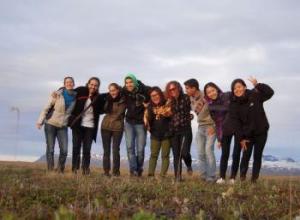 "Collecting herbs in the south" has been a workcamp located in the south of Iceland, between Mirdalsjokull glacier and the Atlantic ocean, where the herb Angelica-Archangelica grows naturally on the green hills. A group of 14 volunteers worked for 2 weeks in order to collect the medicinal herb, that has been used for many years among Icelanders.
After work, we enjoyed the relaxing water in the swimming pool , and the natural surroundings where we hiked and visited interesting spots like waterfalls, beaches and a museum.
We have had also the chance to see the spectacular ice cap of Vatnajokull in the south-east of Iceland, where many glacier tongues flow downwards, thanks to a day trip provided by our host.
We hope that our international volunteers have spent a great time in this Icelandic experience and we wish them all the best.
Diego GOMEZ, SEEDS Workcamp Leader
Find your workcamp
Icelandic Experience
SEEDS main supporters