SEEDS 028. Ísafjarðardjúp: Nature & Fun in the Westfjords (2:3)
30.06.2014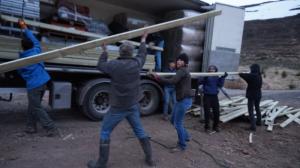 "Nature and Fun in the Westfjords" was the name of the workcamp and that was really it! During these two weeks we collected a lot of adventure and stories to tell, experiencing the stunning nature of Iceland.
The location was at the edge of a fjord, where our host bought a former farm transforming the place into a touristic location for those who want to travel in the Westfjords. Our task consisted in helping to improve this place, doing gardening in the surroundings of the restaurant, building small paths of stones and cement and creating the structure of a new greenhouse in the valley. The work was often hard but at the end we saw the results of our efforts.
During the free time we did a lot of things, from hiking in the surroundings to enjoying our two hot tubs and the swimming pool. In the free days we went kayaking in the fjord (accompanied with seals!), rode Icelandic horses, made a trip to Ísafjörður and a long (very long…) hike to the glacier Drangajökull. The scenarios were amazing, especially during the second week, when the weather got better.
The group turned out to be great, we shared our culture and language and we spoke a lot with the host about Icelandic nature and adventures. Everybody tried to engage in new experiences and get out of their comfort zone: someone overcame his fear of dogs also someone took a bath in the icy water of the fjord!
Thank you Tracy (France), Juan (Colombia), Brody (USA), Samantha (USA), Auguste (Lituania), Alexander (Russia), Ming (Korea) for the great time spent with you, hope to see you again on day!
Alberto Giachno, SEEDS Work camp Leader
Find your workcamp
Icelandic Experience
SEEDS main supporters