SEEDS 027. Sandfell - Fljótsdalshérað (1:2)
12.06.2014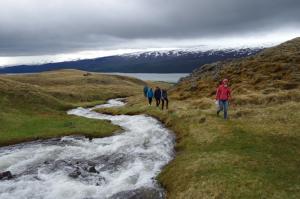 The place is exceptional and transmits energy from every angle you see it. There is a special light that puts you in a good mood every morning. There are still snow-capped mountains on both sides, also a lake which then rises to another mountain with a lot of waterfalls. The sight of the horses running in the meadows in the surroundings relaxes the mood and the woods that come down from the mountains surrounding the farmhouse makes this place unique. It is possible to take long walks along the river that descends from the mountain forming some small waterfalls along the river, but also in the forest in searching for reindeers and swans.
We had a long travel to get there. On our way we saw various sightseeing highlights and could enjoy the beautiful countryside. We had the opportunity to do the round road of Iceland from the north to the south, gaining a complete picture of the Icelandic landscape.
This is East Iceland. We lived in the old apartment shared with the host`s 70 year old brother who is a story teller and very funny. We experienced the landscape around the area and two amazing waterfalls, Hengifoss and Strútsfoss, and we visited Seyðisfjörður in the East fjords, where the volunteers saw a humpback whale from the harbour.
The farm where we worked is a really strategic place to camp because it is possible to reach many locations. That is why the host is really careful to make the surrounding area very presentable for the guests as well as the cottages. So we spent the working time painting the cottages and gardening. On the other hand there was the chance to go horse-back riding many times and we took care of the horses during and after work time.
We hope that Tae (South Korea), Rike (Germany), Anna (Germany) Lauren (Canada) and Marie (Scotland) have had unforgettable experience with SEEDS in Iceland.
Dario Nicodemo, SEEDS Workcamp Leader
Find your workcamp
Icelandic Experience
SEEDS main supporters