SEEDS 022. Ísafjarðardjúp: Nature & Fun in the Westfjords (1:3)
28.05.2014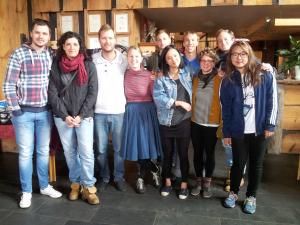 Our workcamp was in a small valley with such a wonderfull and amazing a lanscape as you can imagine, in the West fjords. Far away from every city in that region, it has been a perfect oppurtnity to enjoy the nature around us . However, despite the seclusion, we lived in a comfortable and welcoming accomodation with all the modern facilities.This valley is dominated by few buildings, which were a part of a big farm re-building in restaurant and hotel for tourists.
Our job was very practical and manual in contact with nature, we helped our hosts to create several new paths for making the hotel area more attractive for the guests; we also helped them to plant new trees and flowers for summer time, fixing horse fences and other intresting and useful things.
The work sometimes was a bit physically challenging but thanks to our hosts every meal was a big reward for us, so delicious and tasty was the food, I'm still hungry only thinking about it. Furthermore during free-time our hosts provided us with such a good time, horseback riding, kayaking next to a seal colony and a lovely trip to Isafjardardjup.
Last but definitly not least I want to send a special thanks to the volunteers who made our workcamp unforgetable. Thanks to Yu rim Hong(South Corea), Hyoyeon Kim (South Corea), Aleksandar Mijatovic (Serbia), Valentina Golfari (Italy), Hannah Gelderman (Canada), Brett Anderson (USA) and Taylor Farmer(USA).
Luca Luraghi, Workcamp Leader
Find your workcamp
Icelandic Experience
SEEDS main supporters