SEEDS 085. Forestery in the Land of Fire and Ice
04.08.2013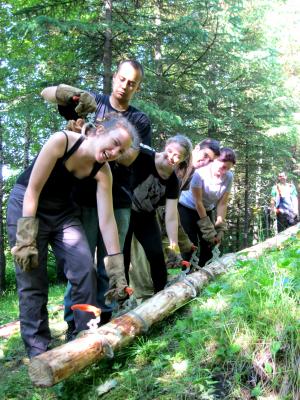 If somebody would ask me, what is the first thing that comes into my mind when I remember my last workcamp, it definately is - sun! But a big, big and very warm one. Actually, before this workcamp, I thought, that in Iceland good weather can stay for maximum 3 days. I was sooooo wrong.
But sun symbolises not only the wonderful weather we had, it also means the relationships and warmth between us. And that is what matters the most.
The workcamp took place in a forest next to the Skogafoss waterfall. Yes, that's right – I really said FOREST. Because even for me, latvian with so much forests in my country, that sometimes I get a feeling that they are too much, it really looked like one. That means also, that I'm not aloud to joke about icelandic forests anymore. Because they do have them.
But what we were doing after all? We were making the forest more open, so that also others could easily come to see it – making hiking paths, moving huge wooden brunches into the piles (I would't really call them "brunches"), building stairs, but the biggest task – building a wooden bridge across the so-called river. At first I had no idea, how exactly are we going to do that and all the sketches and drawings about how it should look like, made it even worse, but after one week of hard work (pictures prrove that) we really did it! And it's not just a small bridge, it is THE bridge. Made with lots of love. And nails.
After every day working came the best part – free time! In these two weeks we've seen so many different places, that I can't even properly put them into one sentence – we have swum in so many places, including waterfall next to our house and Atlantic Ocan (both were freezingly cold, but that made it even better), we've seen Vik, Glacier Lagoon, Skaftafell, crushed airplane in the middle of icelandic desert, stayed for two days in Vestmann Islands, and more, more.. And let's not forget about the sunsets – every next one even better and better.
Cookie time, puffin hunting (not really a hunting, though), silly pictures in the middle of night in the centre of Heimaey, timer-picture time, party car, Bloody Mary made from tomatoe concentrate and, of course, bones - all the things that will remind me how incredibly great it was!
Big and sunny thank you, guys, for two wonderful weeks we spent together! Miss you all very, very much!
Anna KANEPONE - SEEDS Workcamp Leader
Find your workcamp
Icelandic Experience
SEEDS main supporters