SEEDS 041. West fjords: Music Festival
27.06.2013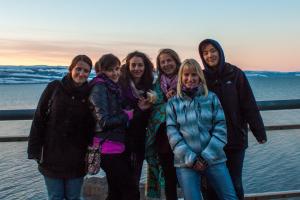 We traveled all day to get to Isafjorður, waking in the very morning. But even the early hour couldn't hide the excitement what we, six girls, had for this work camp and music festival. We all wanted to experience something new, all were keen on music and outdoor activities, and meeting new people. The best thing for all of us – we didn't have particular expectations or wants, only open minds for new things.
It turned out that living and working conditions were great. The Landscape was beautiful, expressing the lightest days of just started summer in Iceland. We worked and learned together with musicians and people born and raised in that place, helping the festival run smooth and enjoyable for everyone. We prepared door signs, halls and surroundings for upcoming events, sold tickets, arranged chairs, and made sure that good atmosphere welcomes all staff people and visitors.
We also had lots of fun ourselves; hiking a lot, enjoying the nature, looking at ships, listening to music, cooking and eating kinds of local and international food, and sunbathing and playing games in free afternoons. In one of the last nights, on Summer Solstice, we experienced something happening only behind certain latitudes – the midnight sun. As the sun was almost touching sea horizon but never settling at 2o'clock in the morning, we stood awed and delighted of this natural phenomena and of chance to be here. This was definitely one of the most interesting and fulfilled work camps. Thank you Papaya, Evina, Jude, Mary and SoHyun for your optimism, caring and enthusiastic view on life. Take care, girls!
Now near to Isafjorður in a sightseeing spot lies an entry in a guest book: "we come here as 6 volunteers to Iceland, Við Djupið music festival. As the June 21st, the longest day of the year arrives, it's fantastic to see nature in its most amazing at this right spot. Thank you sun, sea, people in and around this place and those amazing coincidences that we can be here right now."
Find your workcamp
Icelandic Experience
SEEDS main supporters