SEEDS 036. Patreksfjördur - Unique Westfjords
14.06.2013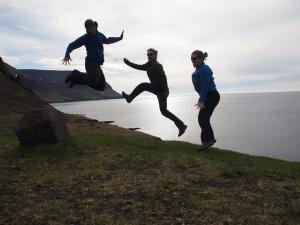 When you leave Reyjkiavik at 7.00 A.M. on the way to the north you don't really know what you're going to find up there. Once you leave behind the Ring Road and road 60 starts to get nasty, you start to wonder why exactly are you going to that place of impossible name. Seriously there's something like a town behind those endless fjords? How people can get there during the winter? Will SEEDS 2 -one of our exploited but truly estimated vans- survive to this adventure?
These doubts blow away from your mind when someone in the van asks that question that now sounds so familiar: "Can we stop to take a picture?" Of course, we can! In that precise moment, when your feet step on the asphalt and you're taking your camera from the pocket to take the first photo of the trip, is when you realize that you're not in just another pretty place of this country. No, you're in the Westfjörds and you're not going to forget this place for the rest of your life.
Patreksfjördur (Patro after two days in the town) is placed on the right shore of the fjord of the same name. It is a long line of houses that finishes in the harbour, where the boats unload the fishing of the day. Patro is a small town where everybody knows everybody and where it's not easy to get lost. But Patro is mostly its people: Micael, Ingibjörg, Pallin, Eyrun, Paulo, Gudnifreyr...and all those details that after a few days in the town make you feel like at home.
Working outdoors with the Westfjords landscapes in front of you is a pleasure that we had the chance to enjoy during the two weeks of June that we spent in Patro. The last day of the workcamp you realize that this place in the middle of nowhere will remain in your mind forever.
Pablo Jiménez - SEEDS Workcamp Leader
Find your workcamp
Icelandic Experience
SEEDS main supporters