SEEDS 074. The Valleys in the West of Iceland
26.07.2013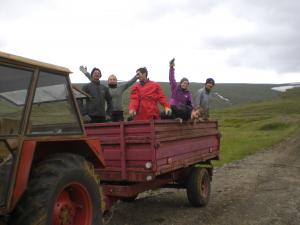 On Sunday, the 14th of July, six excited and motivated young people met in Reykjavik. Together we travelled to a farm in the West of Iceland. We lived twelve days with a big and lovely family in a very beautiful valley.
We worked especially in the barn of the farm which needed a lot of renovation, cleaning out and painting. Everyone had a amazing and exciting time. There were so many unforgettable moments. Here are some keywords: giant bonfire, showers and swimming pool after two days sweating, great icelandic food, swimming in the ice-cold river, storytelling evening with the grandfather, French-challenge, daytrip to Snaellfessness, milking cows...
In the end of the workcamp it was really hard to say goodbye. Sometime during these twelve days, we became part of this big family.
Thank's for this incredible great time!
And there are just three things left to say:
'Enjoy your feed.'
'Finished?'
'Let's go!'
Anna Meier - SEEDs Workcamp leader
Find your workcamp
Icelandic Experience
SEEDS main supporters