SEEDS 030. Vatnajökull National Park - Skaftafell (2:2)
03.06.2013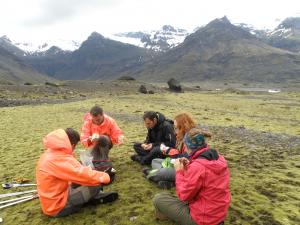 At some point in our lives we have all asked ourselves a question as we hike on the beautifully made hiking trails. Who are those sneaky elves that make them? How is it possible to make these wooden steps here? I mean we are 5 hours away from the nearest sign of civilisation? Who carried all of the materials here? Well my friends, I have an answer. For 7 wonderful days it was us. Six people in between two glaciers in Skaftafell. Although I must say, perhaps we were a bit less sneaky. I lost the count of the number of people we said hello to while working on those hiking trails.
Our wonderful mentors Gummi and Siggi (who I must say are gifted with a phenomenal sense of humour) knew how to start our week. We got a chance to experience the National park and stunning hikes that they offer. Glance at the majestic glaciers changes a person. And glaciers were everywhere we looked (at least for now). Or maybe it is carrying gravel in buckets and wheelbarrows under the rain that does it. But I must say nothing beats the feeling you get when you look at that path you made, that literally has your sweat and blood on it! J So next time you are in Skaftafell and decide to take a peak at Svartifoss… you will be walking on the steps we made (I hope you feel in my tone how proud we are of them). We got a whole class in nail hammering science. Who knew there are so many tricks to get the nail in (or out) the wood. And I cannot tell you how many private jokes we have about rocks. Rocks we carried rocks we threw, rocks that will forever stay in our hearts.
So when I look down at my hands and see that blister from swinging the hammer I will remember the wonderful time I had in between two glaciers. Full of laughter, experimental cakes (not sure if that was the exhaustion or overdose of oxygen and beauty but the cake recipes we invented were truly something), ukulele sounds, habibi songs, muscle pain, batman caves and beans.
Many glacier hugs,
Kristine Bogomazova
SEEDS Environmental Messenger
Find your workcamp
Icelandic Experience
SEEDS main supporters