SEEDS 032. Arctic Adventures in the West Fjords
12.06.2013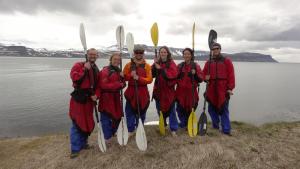 We can't repeat our emotions. And sometimes experiences are so special that we can't describe and reflect them in appropriate way. Maybe that's why for the first time, in my whole volunteering experience here in Iceland, I found it so difficult to write this workcamp report. I just decided not to do it in the common way, to give you some words related to the two weeks living and working together and quotate some thoughts from my volunteers book, as I guess the best this story is told by those who where on the spot.
Don´t get too excited, you won't find real names as it's fair enough to keep them anonymous
Workcamp keywords:
Heima. Chasing the Arctic Foxes. Fireplace. Silence. Showering into the waterfall. Wilderness. Midnight sun. Camping. Take off shoes. Kayaking. Surprises. Sea seals. Building the toilet. Space. Rhubarbs. Snow piles. No sense of time. Breathing. Mountain river. Survival book. Sound of Hrossagaukur. Coastal treasure. Shelter.
"These two weeks were the craziest time in my life! Definitelly!!! I will miss this remote place a lot! I could learn a lot of things during the camp and I'll try to live better life and to be nicer person person from now"
(Person A, I need to say that You're really sweetheart person. Thank You for be brave enough to shower with me in the ocean.)
"We have something in common: we both love FOXIES! First you always screamed when you saw them and I thought it would only be a passing admiration, but you´re still happy to seet hem!"
(Person B, thank you for peanut butter sandwich and Your curiosity about everything.)
"The last two weeks had been amazing! I have definitely chose the right workcamp with the right people. Especially the last days were incredible, we had so much fun and I will always look on the bright side fo life!"
(Person C, thank you for being patient while I was making mistakes with your name.)
"These two weeks have been special, helping me personally and enjoy my life.I will always remember the disaster 2 peson in kayak:
– NO NO WHY ARE YOU GOING TO THE COAST?
- I SAID RIGHT, WHY WE ARE GOING LEFT?"
(Person D, thank you for kayaking and those "snoring like a bear" moments)
"As I told you, I love special atmospheres. I feel that we shared this love – and you managed to create the perfect atmosphere for our WC" (Person E, thank you for giving me chance to know you much more better.)
(Person F, thank you for being there)
Justina Lizikeviciute
SEEDS Workcamp Leader
Find your workcamp
Icelandic Experience
SEEDS main supporters