SEEDS 026. Djúpavík - Where the northern road ends!
07.06.2013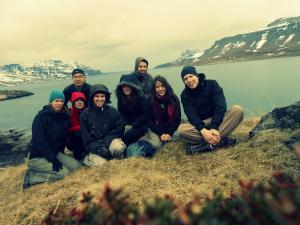 What's better than the Westfjords to experience the natural beauty of Iceland? In Djúpavík, particularly, where the wonders of nature stand alongside the huge ruins of its old herring factory.
This amazing place was chosen by Ulla and Karita from Finland, Iris from Germany, HyoSang from Korea, Lea from France, Tomas from Czech Republique, and Francois-Xavier from Belgium to enjoy Iceland's wilderness during two weeks.
Two weeks in the Strandir region, living in a picturesque summer cottage with very nice and kind hosts, two weeks of new experiences like cleaning the beautiful beaches of Djúpavík and Árnes, taking care of the sheeps, preparing an amazing exhibition in the huge old herring factory of Djúpavík, meeting seals during our work, swimming in a pool in front of the sea, hiking the hills until the amazing waterfalls, making a crazy movie with a crazy director, kayaking in the Fjords, making a fire on the beach, have a midnight bath in the sea…
But time flies and it's already the end. Fortunately memories never fly away from our mind and we will remember our time in Djúpavík forever.
Natacha Muzaffar
SEEDS Workcamp Leader
Find your workcamp
Icelandic Experience
SEEDS main supporters