SEEDS 020. Ísafjarðardjúp: Nature & Fun in the Westfjords (1:2)
04.06.2013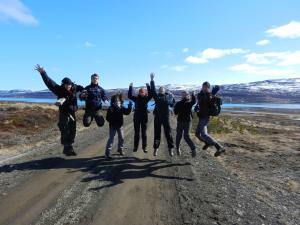 Our story began with a storm, a snow storm to be exact. I guess nothing really says "Welcome to Iceland" than a white whirl of snow. But we finally reached our destination and spent two weeks in Heydalur. Correction. Two wonderful weeks in Heydalur.
Eight fantastic people: Triin, Sakarias, Leevi, Wook, Eliska, Laurence, Katie and yours truly, got together and had the time of their life. Let me first describe the place we lived in. Imagine the most beautiful view you have ever seen… now double it. Because that is now amazing Heydalur really is. The main house has a ping pong table and a parrot named Kobbi who can copy the sounds of the phone and fire siren so well you start thinking he is a half robot. But the most famous attraction of the place is Stella. Stella is a magician whose bread is known in the most distant corners of the world. Yes, we had freshly baked home made bread every morning. Life was good. In fact we were thinking of changing the name of the camp to "Getting fat camp". It was simply impossible to say no to the food. It was so good we took double portions. If not for the hard work we would not fit in the bus on the way back.
Speaking of work, perhaps I should fill you in on our tasks. We won over the weeds in the greenhouse, build a horse fence while standing knee deep in horse excrements, survived a fight with rhubarb, build a mink fence and made a hill (among other things, you'd be surprised how much you can do in two weeks). Oh yeah, we made a hill. Landscape architect license in the pocket! Throwing away rocks from the hill was a bit challenging since we had a dog close to us that was obsessed with rocks. I think we are all still surprised that Loki made it alive. It must be his best friend, an arctic fox Cha cha that helped him to get through it. Oh did I forget to say? Yes, we had our own arctic fox in the valley. Then I probably also forgot to mention that we saw whale in the next fjord… and seals… and whale again… in our fjord. Another thing that we did in our fjord was take a swim in it. Ok, it looked more like a quick dip but that is not the point now is it?
Among the things some of us for the first time in our lives were the "Heydalurs next top model" contest on the top of the mountain, slide down the snow to get home, true Northern sauna, meeting the superman and horseback riding.
Up until now every time I look down at my watch and see that it is 17 I get this feeling that something is missing. I miss the coffee break that we had every day with insane diversity of cakes. I close my eyes and transport myself back in time. We sit after a hard day, eating "Blueberry dream" cake and talk about our plans to swim in the hotspot that is right around the corner. Kobbi, the parrot is pretending to be a siren or a cat, Loki is playing with the fox, and we are sharing laughs. And these will be the memories that will warm my heart everyday at 17… just in time for the coffee break.
Many whale hugs,
Kristine Bogomazova
SEEDS Environmental Messenger
Find your workcamp
Icelandic Experience
SEEDS main supporters