SEEDS 116. Christmas Photo Marathon in Reykjavík (2:2)
26.12.2012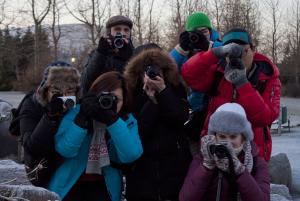 Christmas is more than presents. Seven people came from different places of the world had the possibility to experience this winter time not only in Photo Marathon but also in doing volunteering work with Red Cross organization. Now we all know that Christmas is the best time to use our energy and ideas for those who need them most! Inspired by festive mood gathered all the lights, songs and mystical thirteen Christmas Lads, we were gifting hot chocolate on the streets and collecting donations together with Red Cross.
This Christmas Photo Marathon was special for everyone of us: in two weeks living like the intercultural family, we shared experiences, broaden our horizons, and realized that the best Christma's present is to give. Maybe that's why we haven't felt any homesick far away from our relatives even in this special winter time.
And finally during the last days of our workcamp, beautiful Icelandic nature prepared surprise for us – the Northern lights!!
Justina Lizikeviciute
SEEDS Workcamp Leader
Find your workcamp
Icelandic Experience
SEEDS main supporters