SEEDS 053. Salvation Army Guesthouse & Shelter - Two weeks, passed fast!
27.07.2012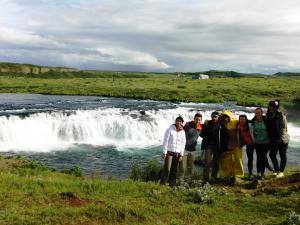 We met five people from four different countries with different backgrounds. After one week we were seven people in total. We enjoyed seeing that our work had visible results. Guesthouse became more cosy and nice for us and the visitors. We had two great weeks together to explore Iceland, each other personalities and cultures. And we did it!

We defenitely were the group who enjoyed the food a lot. Therefore in the end of the camp we made recipies that included the key ingredient- SKYR!!!!
We were living in the heart of Iceland and in the most lively place in Reykjavík. The Salvation Army guesthouse was like a home for us and for people who came to explore Iceland, therefore we met a lot of interesting people. We were a great team. The best part of the day was dinner time after the trips we were tired, hungry and happy. Kitchen was our living room.
We had very nice trips - self, guesthouse and SEEDS organised. Every day...as much as possible. Last days we spent hiking, going to the bowling with the hosts and having nice dinner evenings together. All of us wish all the future volunteers to take as much as possible from every day, because these two weeks pass really quickly!


Anete - SEEDS Workcamp leader
Find your workcamp
Icelandic Experience
SEEDS main supporters