SEEDS 068. - LungA - Arts festival in the Eastern fjords! - Magic happens here!
30.07.2012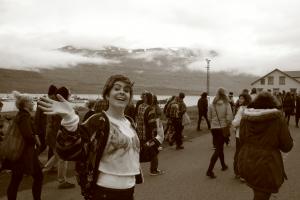 It started very slowly. Doing nothing more than doing something. Being lazy, wandering around the town, starting to get the spirit of the place. Then artists and participants arrive and the mood changes into creative, bohemian, easy-going one, pulling you in, even without asking permission. It keeps on growing with late night chats, openings of the exhibitions, watching movies while dancing on the music, played along the scenes, experimental music concerts in the church and participation in workshops, creating music instruments, dancing and collecting pieces for archeological sculptures.

Days are long and the only thing that keeps us up-to-date is the schedule for helping out in the kitchen – slow and sleepy morning shifts, crazy busy lunch and more relaxed dinner.
Finally the culmination of the festival is reached on Saturday – presentation of workshops, open exhibitions, concerts, parties and a real festival mood. And then it is finished. Sunday comes with a barbecue and slow-motion mood, which are shared by everyone around. As we are packing and leaving for Reykjavik on Wednesday, Seyðisfjörður goes back to "normal" – small town lifestyle, accommodated by constant creativity and weird artistic outbursts, making this place magical.


Ivita - SEEDS Workcamp leader
Find your workcamp
Icelandic Experience
SEEDS main supporters