SEEDS 033. Salvation Army Guesthouse & Shelter - Have fun! Enjoy! Don't forget the camera!
25.07.2012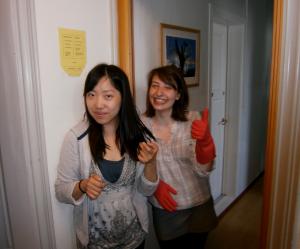 Hello from Reykjavík!
We were five people who had the honour to be the first ones to do this workcamp. Two weeks of helping out visitors and making them feel more comfortable and welcome here. Our main tasks were to clean guest rooms and lavatories and from time to time some other small tasks in the guesthouse to make the atmosphere around us more pleasant. As the first volunteers doing this workcamp we also left our "footprints" here – a "Guestbook" with some funny photos and some tips on how to be a good volunteer as well as some must-do things while staying in Iceland. We were pampered by guesthouse staff: nice breakfast every morning and later really good and delicious lunch. Atmosphere of the workcamp was full of fun, laughter and kindness.
We were so lucky that for these two weeks our working day was over before four o'clock and we had a lot of free time to explore the beautiful capital of Iceland - Reykjavík and its surroundings, ouh these long walks around the city... We also had the chance to enjoy the crazy Reykjavík night life and of course exciting excursions out of Reykjavík like Golden Circle, trip to the South, to recover our energy for the work we bathed in the healing waters of Blue Lagoon and of course the most amazing thing - whale watching and much, much more. Our motto throughout the work camp was: Have fun! Enjoy! Don't forget the camera!
Agnese, Benedek, Tiphaine, SEEDS Work Camp leaders
Find your workcamp
Icelandic Experience
SEEDS main supporters