SEEDS 062. Close to the Arctic - Trails 65 degrees north. Hundreds of wheel barrels!
13.07.2012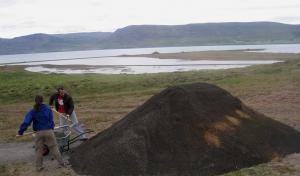 Once again we were reminded of how amazing Iceland is with its beautiful nature, our working place was in the bottom of fjord, surrounded by majestic, a place so calm and peaceful that the only noises around were the songs of birds and the howling of wind and of course noise of the shovels and rakes...
Work was very hard and after the first two days our backs and muscles were not too "happy" about it but the weekend with two days of travelling around northern part of Iceland was an incredible healer. Lake Myvatn, impressive waterfalls, fjords, small towns, that was an ideal combination to recovering energy!
And the proof of our hard work - the walking paths in one of the most important archaeological site in the north...
Ar sveicienu... Agnese - SEEDS Work Camp leader & Ilias - SEEDS Environmental messenger
Find your workcamp
Icelandic Experience
SEEDS main supporters