SEEDS 038. Revegetation in the South of Iceland - Mission accomplished!
11.07.2012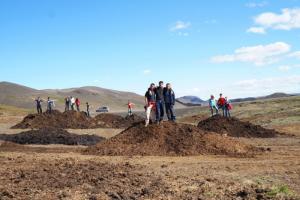 Yeah, we did it!!! The thirteen little green heroes have planted some seeds of hope around the South of Iceland (and we have our diplomas as proof!!!). Our results will be seen, for sure, in a couple of years. Everyday we were shoveling for a greener future, Mother Nature will be very grateful to us.
Apart from all that (if you still think that is not enough) we had enormous pleasure to enjoy the swimming pool every day, also we visited a natural hot pot in Snaefellsnes (marvellous journey with our hosts), saw a concert of a new Icelandic group that is starting to hit hard in all Europe (Of Monsters and Men), relax in the sea shore, taste a typical Icelandic barbeque…
All that was seasoned with some environmental reflections and some funny and energetic games. In fact, the dices betrayed us and brought us some bad weather for a couple of days…just like in our simulation game!!
Waiting for more unforgettable experiences with more wonderful people, here in Iceland.
Jose, SEEDS Environmental Messenger
Find your workcamp
Icelandic Experience
SEEDS main supporters