SEEDS 038. Revegetation in the South of Iceland! - The Green Heroes!
03.07.2012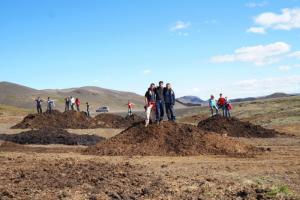 Here we are, all of us, 13 people working hard (always together with our great hosts) for a week now in different places in Southern Iceland!
We are doing several tasks: from spreading natural and organic fertilizer with our shovels and rakes (we are in the top of some mountains of that material in the picture) to planting new small trees, small pieces of hope in the nude soil we already know by heart.
However it is not just hard work, we have already had the pleasure to enjoy sightseeing around Reykjanes Peninsula and relaxing in the most famous spa in Iceland.
The South of Iceland is waiting for us, it needs to be protected…each one of us will become a small green hero at the end of our unforgotable workcamp, here in Southern Iceland.
Jose, SEEDS Environmental Messenger
Find your workcamp
Icelandic Experience
SEEDS main supporters