SEEDS 016. Easter at Eyjafjörður - The longest fjord
25.04.2012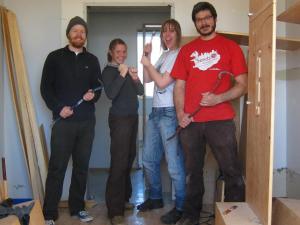 Beautiful landscapes, interesting work, and very nice local Icelanders made for a wonderful experience for our SEEDS volunteers in this workcamp.
Working to turn an old school into a sustainable tourist association/cooperative we had a busy two weeks! From breaking down walls to building new walls, painting, and moving all sorts of things around we were transforming the school into something great for the community.
The people from the community were really interested in our work and came by to meet us and see what we had done. It was a great way to meet the locals and we even received dinner invites to their families homes for a lovely homemade Icelandic meal.
During our stay we had accommodation in the old school, making it a nice quick trip to work:) We enjoyed traditional Icelandic food for lunch made by the locals in the community such as black bread and fish. Our host was very helpful in suggesting places for us to visit, hiking spots, concerts, and introducing us to local community members and farmers.
It was like a paradise and we all had a great time with the community of Dalvík and its surroundings. Such a beautiful place with very nice locals it was truly a wonderful time for us all!
Find your workcamp
Icelandic Experience
SEEDS main supporters