Come and join us for the Earth Day Activities on 22.04.2012
16.04.2012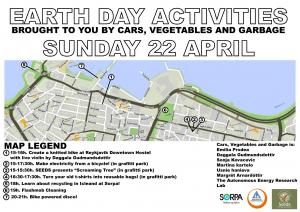 This Sunday, April 22nd, you are invited to participate in a number of eco-friendly events that all investigate creative approaches to eco-friendly living in Reykjavik.
SEEDS presents together with the artist collaborative group Cars, Vegetables and Garbage, Hostelling International and Sorpa a series of activities in public space to celebrate Earth Day 2012.
The program:
1 15-16h. Create a knitted bike at Reykjavik Downtown Hostel with live violin by Daggala Gudmundsdottir
2 15-17:30h. Make electricity from a bicycle! (in graffiti park)
3 15-15:30h. SEEDS presents "Screaming Tree" (in graffiti park)
4 16:30-17:30h. Turn your old T-Shirts into reusable bags! (in graffiti park)
5 18h. Learn about recycling in Iceland at Sorpa!
6 19h. Flashmob Cleaning
7 20-21h. Bike powered disco!
You can download the map of activities under: http://dl.dropbox.com/u/7377996/flyer3.tif
Find your workcamp
Icelandic Experience
SEEDS main supporters