SEEDS 010. Reykjavík Fashion Festival
02.04.2012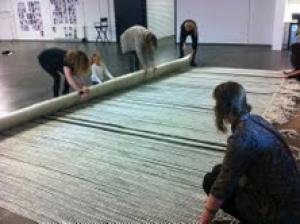 March was a busy month here in Reykjavik! With both the Design March and the Fashion Festival the city was filled with creativity, fashion, design and of course lots of fun.
SEEDS volunteers were lucky to have the opportunity to be part of the 3rd Reykjavík Fashion Festival and get a behind the scenes pass to all the excitement.
Our group of volunteers coming from Korea, Australia, Czech Republic, Denmark and France became like an international family while they worked hard for two weeks with the Fashion Academy of Reykjavik. From the making of decorations to assisting designers and models it was a hands on experience into the fashion indusrty.
With a new knowledge of fashion and design SEEDS volunteers truly had a great learning expereince during their workcamp.
Even after all the fun and hard work, SEEDS volunteers still had the energy to take some adventures of their own. From the south of Iceland to the Blue Lagoon our volunteers took in a full experience of what Iceland has to offer.
Kaelene Spence
Find your workcamp
Icelandic Experience
SEEDS main supporters