SEEDS 002. Reykjavík: Design, Renovation & Environment
28.03.2012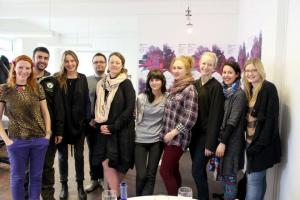 500 designers, 100 events and exhibitions, a hard working group of 10 SEEDS volunteers, its Design March time!
The fourth annual Design March took over Reykjavik and filled the city with creativity and fun in the last weeks of March. Of course SEEDS was in full force at the event working with coordinators to make the Design March a success.
For two weeks volunteers worked hard to promote the Design March events all over the city by distributing posters, stickers, and banners and telling all about the upcoming events. Volunteers also worked behind the scenes on the event website by uploading the latest information and pictures. In addition volunteers got the chance to welcome designers and journalists to Iceland and assist in their transportation around the city.
Our volunteers used their free time to enjoy the many events and exhibits occurring during Design March. They also had the opportunity to participate in the Reykjavik Fashion Festival, which occurred shortly after the Design March events ended. In addition there was the must see trip to visit the Blue Lagoon and a visit to the south of Iceland.
The experience volunteers had working at the Design March will be unforgettable. With many volunteers already having an interest in design the chance to participate in the events was an amazing learning experience. This workcamp provided not only a great insight to the design industry, but a chance to experience Icelandic culture as well!
Kaelene Spence
Find your workcamp
Icelandic Experience
SEEDS main supporters