SEEDS 09. Ísafjarðardjúp: Nature & Fun in the Westfjords (2)
03.06.2011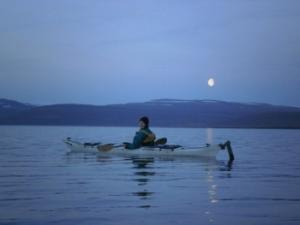 We were welcomed in a magnificent place at the end of the Westfjords.
There is a restaurant, guest houses, a campsite, and two small summer houses and they also have horses to make excursions. Our hosts were a mother and her son, very warm people. Our cook was the owner of the place, a real big-hearted, very generous grandma. She takes care of the restaurant, and her son, was our contact person for the outdoor work. During the workcamp, we had several tasks to carry out - among others, to make a concrete screed, which meant to prepare the cement and to spread it over the platform, to make a path with stones, to transplant some pine trees around the house, clean the swimming pool that was situated in a green house with fruit trees inside, a magnificent botanical garden!
We also had the opportunity to kayak in the fjords with the seals around us, to ride the horses in the valley, it was amazing! We did a lot of hikes in the valley and discovered various waterfalls, the fauna and flora. The food during the project was delicious, the breakfast was prepared by generous host every morning with fresh bread, a real hotel breakfast! At midday, she prepared the lunch for everybody, fish, meat, vegetables, desserts! In the afternoon we had a coffee break and she prepared delicious cakes for us with love! And in the evening, she prepared the dinner so perfectly. After dinner, we were lucky to have a hot pot outside, in front of the mountains, and with the sunset and a good beer, relaxation was assured!!!
Eddy BARAU (SEEDS workcamp leader)
Find your workcamp
Icelandic Experience
SEEDS main supporters