SEEDS 07. Skriðdalur - Crawling Valley
08.06.2011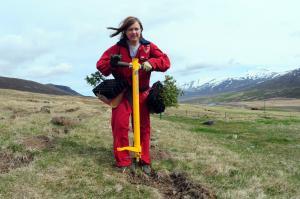 This was the first Icelandic workcamp experience for me as well as for my volunteers.
The first time when I saw the place where I was going to live for two weeks I was astonished by the beauty of West Iceland. A valley, one house and mountains on both sides, majestic, tall and full of snow. I really can say the house where we spent our two weeks had the best view that you could possibly imagine.
The work was not the most interesting one but one of the most responsible and nature loving ones. Yep, planting trees is the job we have done, and I am kind of proud of what we did, as I remember we planted approximately 10,000 tree saplings in the nearby mountain hill, which I hope later will grow in a small forest on the verge of this valley.
Dzintis RUZAIKIS (SEEDS workcamp leader)
Find your workcamp
Icelandic Experience
SEEDS main supporters