SEEDS 10. Photo Marathon on Viðey Island
30.05.2011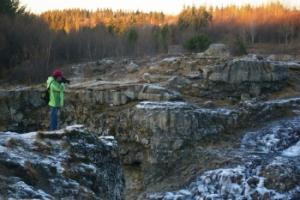 Two weeks that made a wish, everybody in any moment of his/her life has had, real: to have a whole island just for yourself! This is what we've experienced during the last two weeks in Viðey, a small island in front of Reykjavík.
It's accessible only by boat and on the island there's nothing but the house where we were hosted, a restaurant and Yoko Ono's Peace Tower.
In this workcamp we've been switching between the photo tasks and the work we were doing on the island: cleaning the coastline, cultivating a potato garden, fixing bicycles, helping in the restaurant for a Viking party... But the biggest and most rewarding job was the coastline issue. Because you have to realize what we had to do there: we were 11 volunteers, and just with our hands, we cleaned the whole coast line of the whole island! And you can really see the difference, no more television screens, plastic bags or cans there.
The location was simply amazing: you can enjoy from there the most amazing sunsets ever, go for a walk in the night and see the city lights from afar (if you can say afar for what is about a 3 minute journey by boat from the harbour...) and feel the freedom and peace of that magic island that you have just for yourself.
It has been a big opportunity to learn how to be away from the city life and enjoy the nature.
Lara SANCHEZ (SEEDS Photo Marathon Leader)
Find your workcamp
Icelandic Experience
SEEDS main supporters