SEEDS 17. Nature in the far East and a week in Reykjavik
05.06.2011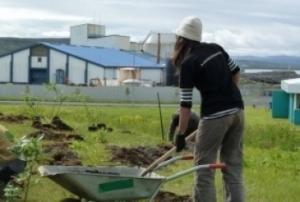 In May, Reykjavik hosted a great street theatre group from Spain - La Fura Dels Baus. The SEEDS group of six volunteers from Romania, France, Slovakia, USA and UK helped them with their amazing performance.
After a few days in the capital city, we headed to a completely different place - a small farm in the East Fjords. The journey was really adventurous, since in the South the road was closed due to the volcanic eruption and in the North the road we took was hit by a snow storm. Our journey lasted a few days with stopping and spending some time with another workcamp group in the East. But later on we safely made it to the incredible farm at the end of the fjord surrounded by rough ocean and snowy mountains.
The time at the farm passed really fast since we were busy with planting trees, building a turf wall, starting the herb and vegetable garden, baking bread, making cheese and taking care of pigs, cows and chickens. In our free time we enjoyed the beautiful surroundings, hiking in the snow and sliding down the hill, watching puffins on steep cliffs, we had a barbeque and spent some evenings in the sauna and in the cozy living room by the fireplace. Our last goodbye time we spent in a lovely local art club in the town talking about our great memories from this place.
Veronika PARICKOVA (SEEDS environmental messenger)
Find your workcamp
Icelandic Experience
SEEDS main supporters