A Unique SEEDS Photo Marathon Exhibition
25.04.2011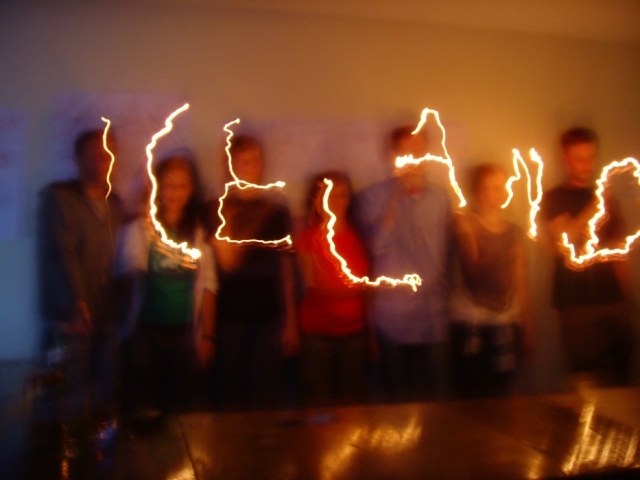 Over the last two weeks SEEDS has hosted the 10th SEEDS Photo Marathon in Icelands' capital.
Volunteers from France, Spain, the Czech Republic, Denmark, Italy, and Estonia received instruction from local photographers and travelled around Reykjavik and the surrounding area, taking pictures of life in Iceland. Together we developed a workcamp theme inspired by the lyrics of Port O'Brien: "I woke up today in a very simple way."
Through photography, we illustrated the dreamscape that people travel both when asleep and awake; thoughts turn inwards, focusing on fears, desires, the future and the past. Via rumination and intrinsic thought, we create a path through our dreamscape, developing our views and feelings. Suddenly, we are awoken from our dream either by the morning sun or by coming to an epiphany. Either literally or metaphorically, we open our eyes, waking up in a simple way to experience the beauty of the world around us.
At the end of our workcamp, we presented our pictures in an exhibition at the Reykjavik City Hostel. We illustrated the dream path with a series of pictures arranged on the floor to mimic stepping-stones. The viewer travels this stepping-stone path of photographs looking down at the floor, thoughts turned inward.
At the end of the path, the viewer looks up to see a flatscreen TV displaying images that we took of the simple, beautiful Icelandic landscape. This act of looking up represents a simple awakening to the present moment. We are grateful to have had the opportunity to learn from local artists and to take pictures of life and nature in Iceland. Most of all, we are grateful that SEEDS provided us with the opportunity to develop our own artistic ideas and concepts that manifested in the form of our unique exhibition.
Find your workcamp
Icelandic Experience
SEEDS main supporters