SEEDS 19. Window into the Viking world! (1)
16.05.2010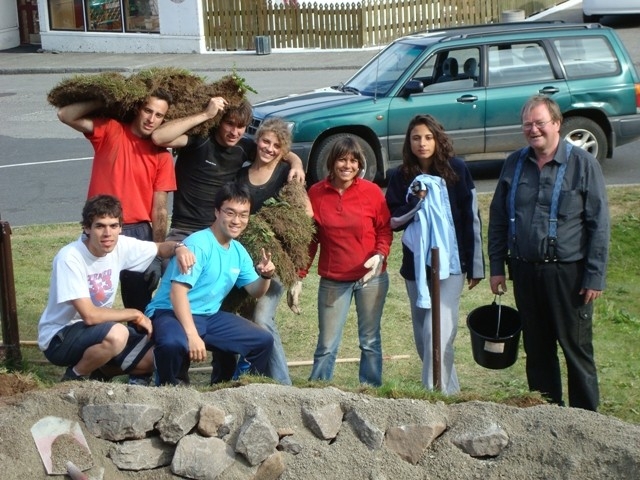 Six SEEDS volunteers from Italy, Korea, Denmark, and Belgium tried their hands at traditional Icelandic building construction! Our host lives in an old, isolated farm 15km away from Selfoss. The area near Selfoss is calm and beautiful. Farms and horses dot the rugged Icelandic landscape.
We stayed in an amazing traditional little house made of wood and turf. Our main project was to help build another old-fashioned building for a museum. We used the traditional tools and methods of the Vikings to build this house, cutting turf and making new walls with stones, grass, and wood.
Our host is a very interesting person. He is an artist and loves working with a lot of different materials. We spend many evenings with our host discussing art, sustainable activity, environment, Iceland, and our countries. Thanks to him, we discovered a lot about Iceland and tried some traditional Icelandic dishes. The most unique was a moss soup!
We worked hard during the week and we had the weekend off. Our host brought us to the swimming pool in Selfoss. He also brought us to visit Sólheimar, an ecovillage near Selfoss. We enjoyed seeing the natural wonders of the Golden Circle. Amazingly, we were even able to witness the volcano eruption!
We all had an amazing time and we hope to return one day to visit the museum we helped build!
Find your workcamp
Icelandic Experience
SEEDS main supporters