SEEDS 06. Bikeability in the Blue Mountains - Bláfjöll
15.05.2010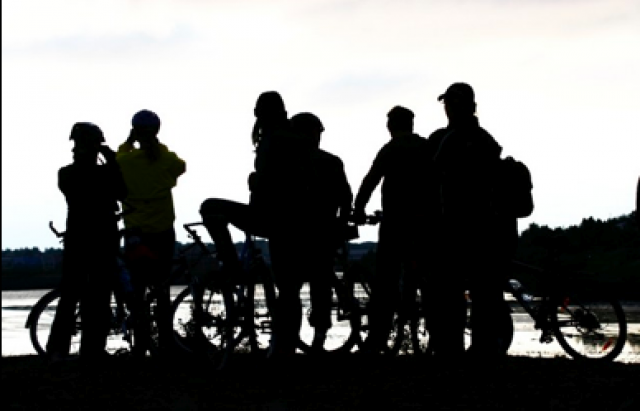 The philosophy of this SEEDS project was "Yes, you can travel by bike!" SEEDS volunteers from around the world embarked on a bicycle trip with youths from a local school in Reykjavik to Iceland's Blue Mountains (Bláfjöll).
First, we assisted local 9th and 10th graders with adjusting bicycles, checking helmets, fixing gears and breaks at their schools. We talked with students about the importance of bicycle safety, regular exercise, and the reduction of environmental impact through alternative transportation. Schoolteachers and members of the Icelandic Mountain Cycling Club joined us at the schools in order helped us lead our bicycle trip.
Next, we all began on our route from Reykjavik to Bláfjöll. Cycling allowed us to experience the beauty of the area in a way not possible when traveling by car. Far away from busy roads, we enjoyed traveling through a planted forest in the nature reserve of Heiðmörk and bicycling across a volcanic landscape.
Once we arrived in Bláfjöll, we were all very tired and ready for a good meal. We worked with the other leaders of the trip to prepare Kjötsúpa, an Icelandic meat soup. Bláfjöll is home to one of Iceland's few skiing resort. Although the resort was not open, we were able to stay in one of the near-by ski huts. The next morning we prepared porridge and traveled back to Reykjavik. On the way back, we admired the picturesque volcanic mountain range. The highest mountain reaches 600m and the river Elliðaá has its source there, streaming down to the lake Helliðavatn in the eastern suburban border of Reykjavik.
This bicycle trip was very successful. We provided youths with an experience that encouraged outdoors activities, teamwork, and a healthy life style. Also, we learned a great deal ourselves. We gained leadership skills and knowledge about bicycle repair. Most importantly, we built positive relationships between international volunteers, local youths, schoolteachers, and bicyclists.
Find your workcamp
Icelandic Experience
SEEDS main supporters