SEEDS volunteers supporting the affected areas under Eyjafjallajökull
29.04.2010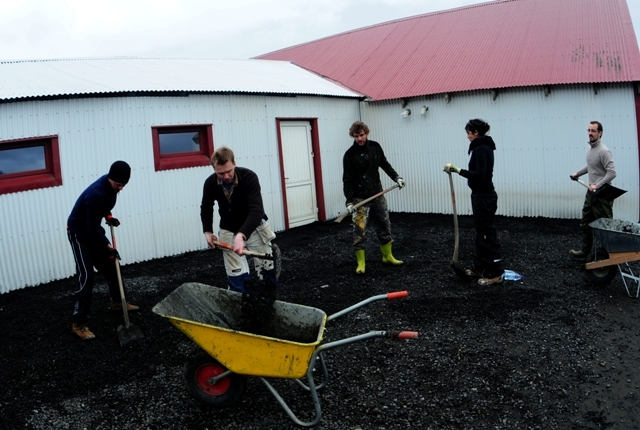 A group of 8 SEEDS volunteers gathered for a new mission, to work in the affected areas by the volcano under Eyjafjallajökull! This time we departed to Moldnúpur where the local people needed some assistance with removing the volcano ashes from the soil, enabling the vegetation to grow.
Local authorities welcomed us with kind words, warm meals, goggles, respiration protection and shovels!
The road led us through picturesque landscape of lava fields covered with moss, land sown with geysers, offering us breathtaking views and infinite possibilities for photographers. The site was located near the volcano and we could see ashes still swirling from the crater. Time flew and we were soon enjoying the results of our work. After the hard work we headed for some deserved relaxation....and if there is a place to turn off your mind and recharge your batteries...it's Iceland!
The locals suggested us a kind of 'secret place', abandoned pool, built into the mountain with a fresh stream of geysers and hot water filling it up. It's hidden in the canyon of a freezing cold river with hills surrounding it. Volcano ashes created an amazing surreal surface and we felt like being on the moon. In the cold weather, couple of degrees above zero, we swam in the hot pool, than shocking our bodies in the refreshing cold river.
The day went by all too fast and we can't wait to be engaged in new adventures!
Find your workcamp
Icelandic Experience
SEEDS main supporters