SEEDS 30. A Vatnajökull National Park & The Viking Wall (2)
11.09.2009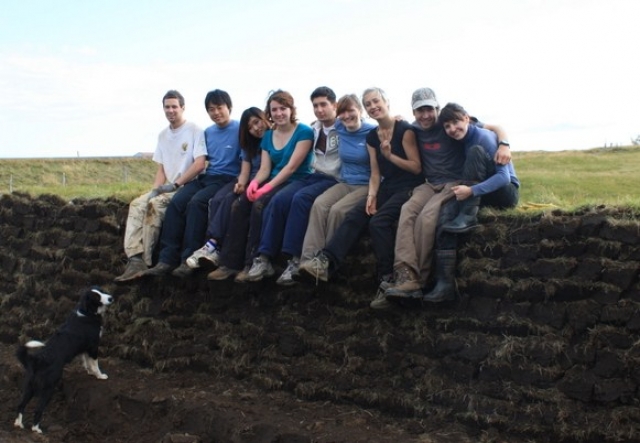 Two workcamps in Vatnajökull National Park and Kirkjubaejarklaustur took place during the summer 2009, with this being the second. This workcamp was divided into two groups, one starting in Vatnajökull National Park for one week and the other one in Kirkjubaejarklaustur. For the second week, the 2 groups swapped places.
9 volunteers were involved in the workcamp coming from Belgium, England, France, Italy, Japan, Russia, South Korea and Switzerland. The workcamp took place in Skaftafell, a small area in Vatnajökull National Park, the largest national park of Europe. The place was particularly impressive. Skaftafell was home to the Vatnajökull glacier, the biggest glacier of Europe, and the Hvannadalshnukur Mountain, the highest summit of the country. We worked with the staff of UST (Umhverfisstofnun – Environmental Agency of Iceland), who were our local hosts for the week. The work consisted of maintaining and fixing the pathways in the Skaftafell area, building steps and dams to limit the soil erosion, widening the trails, and removing rocks out the trails.
During the free-time, we took advantage of the activities offered by the national park: the leader and the messenger organized some hikes and the volunteers enjoyed the famous glacier walk on the Vatnajökull glacier! On the first Saturday, we went to a bonfire organized by UST, and we saw the amazing northern lights over the summits of Skaftafell. And on Friday, we were lucky to go to the "Jokulsarlon Lake" with the UST team, enjoying the turquoise-blue colors of the lake and the icebergs, under a clear sky.
The second week, we moved to Kirkjubaejarklaustur, switching with the other group of SEEDS volunteers. The plan at the beginning was to build a Viking wall for the community of the city, renovating an old wall which has been built in the year 1100. However, the first group had almost finished the wall during the first week. So our local host organized for us to work in the countryside around Kirkjubaejarklaustur, planting sticks to mark the trails, and also repairing some pathways which have been damaged during summer.
On Tuesday and Wednesday, we finished the wall with a local Viking Wall 'expert', putting the last layers of turf on the wall.
For the free time activities, we had free access to the swimming pool of Kirkjubaejarklaustur. The environmental messenger also conducted some activities, including a hike around the city, and some presentations and games. On the last day, we had an intercultural party with local people to celebrate the end of the workcamp. It was a lot of fun!
Find your workcamp
Icelandic Experience
SEEDS main supporters